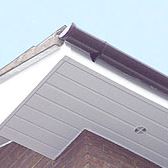 Fascias and soffits in Halewood are your roof's best friends. At Rainhill Roofing we find they are often neglected because homeowners underestimate the important role they play in keeping water out of your attic. Vented soffits draw moisture from your so wood rot doesn't. The soffit material itself is exposed to the elements since they are the underside of your roof overhang. The best material for hardworking soffits is UPVc vinyl. It is naturally waterproof and low maintenance so the trim of your home looks well maintained. At Rainhill Roofing we replace old soffits with effective new UPVc soffits on any roof. If you are fortunate enough to have a wide overhang, then new UPVc soffits will be a facelift for your home.
Fascias play a similar role as soffits in preventing water from entering your home. For homes in Halewood, fascias and soffits are part of the roof and gutter system which draws water from your roof by closing up edges. Fascias are the vertical strip covering the edge where gutters are attached. Aesthetically, it is very important as part of the overall well maintained and trimmed out look of the home. The wear and tear on both soffits and fascias is directly connected to the condition of the gutters. If the gutters are not running clear, then water will back up and compromise the fascia and soffit. The good news is we at Rainhill Roofing install guttering as well. Roofs, gutters, soffits and fascias are all integral parts of the roofing system. At Rainhill Roofing, our roofing techs repair or replace all components.
At Rainhill Roofing we use top quality UPVc products for fascias and soffits in Halewood. It is tough and durable. You can brighten it up and remove debris with a water hose. White is probably the most common colour but you can choose from many others you think will be a better colour combination for your house. Contact Rainhill Roofing if your soffits and fascias are looking worn and ragged. We can give you a price quote competitive for the quality of our work. We can offer references from satisfied customers and direct you to samples of our work. Your satisfaction is guaranteed.