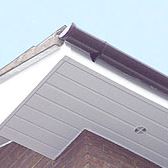 Need a reliable company to install fascias and soffits in St Helens? At Rainhill Roofing, we have a team of qualified roofers, ready to help you with any roofing project you may have, including the installation of top quality uvpc fascias and soffits. The fascia board is mounted at the point where the roof meets the outer walls of the house. It is a long, straight board that runs along the lower edge of the roof. The fascia is fixed directly to the lower ends of the roof trusses. The soffit usually does all the work of supporting the lower edge of the bottom row of tiles. The fascia board also carries all the guttering. This is quite a task, especially when it is raining hard. In a downpour the roof of a small house could be washing several gallons of water per second into its gutters.
Both fascias and soffits play a crucial role in protecting your home. For your house in St Helens, fascias and soffits constructed out of  upvc are longer lasting and easier to maintain then the more traditional types made from wood and aluminium. Upvc is a durable, long lasting material that will withstand wet climates and exposure to cold weather. Aside from their protective role, both fascias and soffits offer an important aesthetic role. They create a smoother, more even appearance for the edge of the roof. It is recommended that you perform regular maintenance of your fascias and soffits to keep them in top condition. This will also spare you the expense of needing a whole new gutter installation fitted.
Fascias and soffits in St Helens from Rainhill Roofing are made to last. We are proud to offer top quality services and products at affordable prices. If you need advice, or are looking to replace your old fascia and soffits, contact Rainhill Roofing. Known as the number 1 choice for all your roofing needs, we are happy to provide a free quotation for new upvc fascias and soffits. Our comprehensive service will both meet and exceed your expectations.