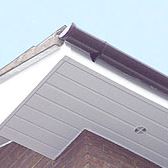 There are certain parts of a roof that will require attention and fascias and soffits in Halewood need to be checked to ensure they are in good condition. These parts of a roof play an important role in maintaining the integrity of the roof. The fascia board which caps the rafters outside the building is often used to hold the rain gutters. It may also support the lower edge of the bottom row of tiles. The fascia may be made of a number of different materials, often wood, uPVC or non-corrosive sheet metal. The soffit connects the exterior wall to the edge of the roof under the eaves. These soffits are usually screwed or nailed to the rafters. They can be ventilated to prevent condensation and have a vent opening with a grill on the bottom of the soffit.
Having a roof in good condition is all that keeps you and your possessions dry and warm. In Halewood, fascias and soffits help to keep your roof in good order. In a strong wind the soffits will stop the tiles from blowing off by preventing the wind from lifting the tiles. In a huge storm this may not be enough to save your roof and you will need emergency roof repair which we can supply. We know how to make sure a flat roof is leak proof  with our many years of experience and can repair a leaking flat roof at an affordable price.
We are roofers who supply and fit fascias and soffits in Halewood. We also provide a wide range of services including flat roof repairs, roof slates, lead work and guttering. Contact Rainhill Roofing today and we will visit you to assess your roofing needs. We are able to carry out work on any type of roof to meet the individual need of our customers. Most homes today have pitched roofs and we are in demand as experts in this field. Our company is highly professional in all aspects of our work and will keep your home leak free and in good condition.