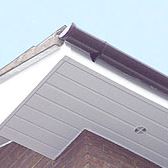 UPVC fascias and soffits in Knowsley provide the ideal combination of durability and aesthetics. Rainhill Roofing offers a wide selection of UPVC soffits and fascias to suit your home. You can choose from a variety of colours and styles, or let us select the best fit for you. We also offer UPVC guttering to complement your new fascias and soffits. UPVC is so versatile, which makes it a great choice for unique styling options.
If you house is looking a little worn around the edges in Knowsley, UPVC fascias and soffits will liven it up. You don't need a complete home makeover to revive a dreary exterior; a trim around the edges will neaten, polish and boost the appearance without breaking the bank. Add a quick lick of paint for that extra wow factor to make your new fascias and soffits blend seamlessly with the rest of your building. Rainhill Roofing is committed to quality; from the products we offer to our installation and repairs services, and everything in between. We can revitalise shabby-looking soffits, fascias and guttering or replace them with UPVC options that will protect your building for many years. UPVC is durable and will not warp or rot like wooden roofing products. It also protects against insect infestations that might bore through wood and other materials.
UPVC fascias and soffits in Knowsley are affordable if you know where to look. Contact Rainhill Roofing today for top quality UPVC fascias and soffits that suit your budget. You can buy the products outright for a DIY home improvement project, but we are always happy to provide a full installation service at competitive rates to ensure a professional finish to your home. We are the roofing experts to call for all your home and roofing requirements.