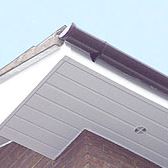 Fascia board replacement in Prescot will need to be done if, after inspection,  you notice that they are showing signs of rot. If your home has wooden fascia boards, and they have succumbed to water damage, rot and decay, it may be worth considering having them replaced with UPVC fascia boards. UPVC fascia boards are a very popular choice, and the benefit of these is that they require no maintenance or painting. Fascia boards not only play an important role in keeping your home pest free and dry, they are also important from an aesthetic point of view.
Fascias are traditionally a softwood board that is attached to the exposed edges of your rafters, however, in recent years these have been replaced with high grade UPVC as softwood has a tendency to rot. In Prescot, fascia board replacement will protect and seal the roof and the interior of your home from exposure to the elements. If you are considering replacing your old wooden fascias with UPVC, speak to Rainhill Roofing. We have a large stock of quality UPVC fascias. These are available in selection of colours and styles that will transform the look of your house. With our expert team, we can replace fascias for any type of house. There a number of benefits when you use our services to replace your damaged wooden fascias with UPVC fascia boards. As they will not yield to water decay, they require the least amount of maintenance and all but eliminate repair and replacement costs. We will measure your UPVC fascia boards, deliver and install them, and show you how best to look after them.
UPVC fascia board replacement in Prescot means they are ideal, as they can be exposed to the wind and rain for many years without disintegrating. If you require more information about fascia board replacement and would like a free quote, contact Rainhill Roofing. It can be said that there is nothing more important for a home than strength and security, so make the right choice and choose fascia boards that are robust, sturdy, and guaranteed to last for many years.