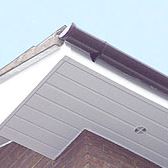 When you need a Fascias And Soffits Specialists In Ormskirk, there is only one company to consider- Rainhill Roofing Services. Based In Rainhill, they are a family run business-with family values instilled-who have been providing first class service to the Merseyside area for over 30 years. Reliable, efficient, trustworthy and above all totally professional, they pride themselves on the service they provide new and existing customers.
In Ormskirk for fascias and soffits specialists, the team at Rainhill Roofing Services recently completed a very successful project for a retired couple who wanted new fascias and soffits to improve the look and feel of their property; at a competitive cost. Extremely pleased with the all round customer service they received, they have gladly recommended the good name of Rainhill Roofing Services to friends and family.
As fascias and soffits specialists in Ormskirk, Rainhill Roofing continue to maintain the enviable reputation for they have achieved over the years. With a free 'no obligation' quote-that is highly competitive in the market-this Fair Trade Association member gives the customer peace of mind and ultimate satisfaction when employed for all roofing solutions.