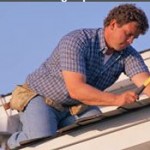 When you need a dry verge gaps fitter in St Helens, Rainhill Roofing is who you call. Our roofing experience and knowledge is extensive. However, where there's a better way to do things, we are all for it. Your roof verge is the end of your roof that is just above the gable end. The ends are raw and leave open spaces in your roof. So, to prevent water and insects from invading your home through these end gaps or verge, we used to finish off the edges with mortar. This is called wet verge roofing. It works very well but as it ages it dries out and cracks. Therefore, it requires maintenance to protect the integrity of your roof. We now use a dry verge system because of the benefits this plastic system offers over the traditional mortar.
Fitted dry verge gaps are easily installed leaving the roof edges with a finished look. In St Helens, our dry verge gaps fitter prefers this method because it's steadfast. Your roofline and any gaps are firmly sealed off and there's no cracking. That means no maintenance needed. Your roof is protected and your roofline looks perfectly finished and maintained. The system is a continuous one and there are colours to match or coordinate with your roof shingles. It really puts a final professional finish to your roof, enhancing the appearance of your property. Since it goes up quickly and easily, it's not as labour intensive as using or replacing with mortar. That makes it very affordable and even more so since it's a one-time installation.
We are your dry verge gaps fitter in St Helens and we're here for all your other roofing needs. We're local and remain always accountable to our customers. We have an enduring reputation for excellent workmanship and conscientious customer service. Our company is able to protect our reputation and still offer affordable prices on new roofs, roof inspections and repairs. If you would like to keep the birds from nesting in your roof, contact us. You don't need all the gaps redone. You need a permanent solution and that's what you get with the dry verge system we recommend. This essential finishing touch will give your home a nice finish aesthetically that you will be proud of.