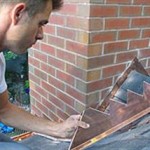 Are you looking for a company that con assist you with pointing in Southport? Having your brickwork pointed is an important part of protecting your home. The United Kingdom experiences many forms of weather throughout the year. Each of the elements can have a detrimental effect on the mortar and brickwork of your home. Strong wind and rain can be particularly problematic. Prolonged exposure to the elements can result in the mortar being eroded which then exposes the brickwork to the elements. If your brickwork is left unprotected it can become damaged and loose. This can then result in structural problems. If you suspect that you may have a problem with the mortar or brickwork in your home then you should certainly investigate the matter further. A roofing service company will send a representative to your home to assist you with this. Identifying the problem at an early stage can reduce the risk of costly repair projects.
In Southport, pointing can provide you with a whole host of benefits. But when do you need to consider a repointing project? You should assess the health of your mortar at regular periods. Look for damage or worn areas. You should pay particular attention to the actual face of the mortar. When this has disappeared then you must have it repointed. Pointing projects are completed by skilled tradesman who understand the entire process. They will be able to complete the project in a professional, efficient manner. They may also be able to provide you with information about protecting your mortar.
One of the major benefits associated with pointing in Southport relates to prolonging the lifespan of your brickwork. Pointing provides a protective barrier between the brickwork and the elements. This helps to increase the longevity of it. A repointing project can also help to improve the appearance of your property. This can make your property much more desirable should you decide to put it up for sale. It will also help to increase the value of your home. Contact Rainhill Roofing Services for more information about pointing your brickwork.