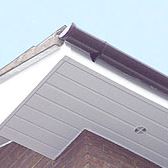 Fascia board replacement in Bold Heath may be needed to keep your home weather tight. Fascias play an important role in your roofing. These boards are the horizontal band you see at the end of your rafters. They support the bottom edge of the last row of tiles. This is also where the guttering is attached. This area can receive a lot of moisture and, over time, damage can occur. The traditional material that was used for a fascia board in the past was timber. This meant that the board was prone to warping or rotting. It required ongoing maintenance such as sanding and painting. Modern building materials have come a long way, however, and it is now customary to use UPVC fascia boards.
If you are renovating or updating your home in Bold Heath, fascia board replacement is possibly one of the tasks you will need to undertake. At Rainhill Roofing we recommend UPVC fascia boards and soffits. UPVC is a very durable material. It will not warp, nor rot. It can withstand the elements and requires little to no maintenance. Simply wiping it down will have it looking as good as new once again. These fascia boards and soffits also come in a variety of colours. This means that you can find the perfect match for the character of your home. Your roof will look instantly better and will last for many years. At Rainhill Roofing we use only premium materials in all of our repairs and builds. We have many years of experience and have the expertise to address any roofing problems you may have.
Rainhill Roofing will be able to fix your roof, including services such as fascia board replacement, in Bold Heath and throughout the region. Our team is efficient and we pride ourselves on the quality of our work. Give us a call today to discuss your requirements. We can provide you with a free quotation so you know exactly how much your repairs will cost. Keep your roof in good working order and avoid future costly repairs.