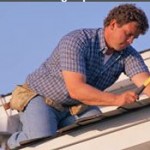 If you need a roof slate repair service in Garston, remember Rainhill Roofing. Roof slates are very durable but they can crack. When this happens they will sometimes allow water to seep into the house. They frequently crack after something has hit them during a storm. We will find and replace the broken pieces with slates that are as closely matched as possible. Our team of very experienced roofers know just where to look and will find the slates responsible in a very short time. They will also check the surrounding slates for any evidence that they have been damaged. We know what we are doing and are very good at it.
When your roof has a leak in Garston, you need a roof slate repair service quickly. Our roofing service is very affordable and we make sure that the job is done correctly the first time. Our highly trained specialists will remove all the tiles that may be causing the leak and will replace them with the highest quality slates available. We will also make sure that they are laid in a fashion that will prohibit any further leakage. This skill only comes with many years of experience and knowledge of all aspects of roof repairs. We are the best for good reason.
Do you need a roof slate repair service in Garston? Contact Rainhill Roofing today and our expert roofers will soon have your roof repaired. We take great pride in being one of the foremost roofers in the area. A lot of our custom is either repeat custom or by word of mouth from clients who have been impressed with our service. We offer a free quotation after we have thoroughly inspected the roof. This ensures that you know exactly how much the project will cost. We are delighted to take on repair work or full roof installations. No job is too big or too small. We can also check your guttering while we fix your roof.