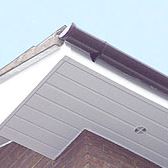 Fascia board replacement in Burtonwood is just one component of a roofing system. Your roof isn't just your shingles, tiles, rubber or fiberglass you see on top. For your roof system to last long and do a good job, all parts of it, including soffits, fascia and guttering must be in good shape. When you need replacements or repairs, you don't have to call a roofer and a gutter contractor. We do it all because it's all part of the same roof that protects your house from water. The fascia board is mounted at the roofline where the roof edge meets the outer wall, right at the lower edge of the trusses. If the fascia is mounted incorrectly, water may seep into the roof edge creating ideal conditions for mould to grow.
If you look up at the roofline of your house, you can see the fascia board but you might not see any damage. On homes in Burtonwood, fascia board replacement is needed if you see damage. It's a good idea to have your roof inspected periodically. Roof inspections is one of our many services and that includes the fascia, soffit, gutters and chimney flashings. The fascia is a long board that has to be strong because it supports the guttering. That's not a lot of weight until it rains and three gallons of water per second is running through the gutter. The weight of the water is why you sometimes see gutters hanging or loose brackets.
Our fascia board replacement in Burtonwood is no longer made from thick heavy wood. Exposed wood rots and has to be replaced. Our fascia boards are made from PVCU which is rigid and expanded so it looks like thick foam. It's lightweight and won't rot yet the board is strong. Contact Rainhill Roofing for repair or replacement of any style roof system, including the fascia, soffits, box ends, chimney flashings or guttering. We are customer friendly and well established in the area with years of experience. You can trust us with the roof over your head.