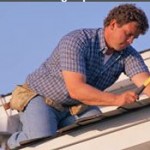 Our roofing company in Sutton can supply and fit tiles which are widely varied and can be made from clay or concrete as well as other materials. Not only do they vary in size and design but also in colour. Choice of tile depends largely on taste or if a repair is necessary then on the best match to the existing style and colour you can find.  Roof slates come in a number of different sizes and we supply and fit a large variety of them. Slate is a natural stone and as such it can vary slightly in colour which adds to the overall charm of a slate roof home.
Lead is a wonderful material if you are looking for a roof that will keep your home free of water leaks for up to 65 years. In Sutton, roofing company experts like us can offer all types of roof covering.  Many manmade materials become brittle in the UV light of the sun and will eventually perish and crack. Lead is very malleable and will move with the building without cracking and allowing water in. It is 100% recyclable and is used in areas of the roof that need to be especially well fitted and snug like around chimneys and dormer windows.  We offer a specialist lead work service for both domestic and commercial purposes. Lead is used extensively as flashing and capping.  
We are a specialist roofing company in Sutton. Contact Rainhill Roofing today and see how we can help keep your home leak free. We have many years of experience in all types of roofs including the notoriously difficult flat roof. This is a wonderful roof if correctly erected and we are expert in making sure there is a slight pitch so that the water can run off. We also take great care to ensure it is waterproof and have come to the rescue of many who needed their flat roof properly sealed. Our tiles and slates are of the highest quality and are guaranteed to last many years. We only stock the best so that we can be sure of supplying you with a durable and long lasting roof.